SINGER Ultimate Heavy Duty Value Bundle 44S Heavy Duty Sewing Machine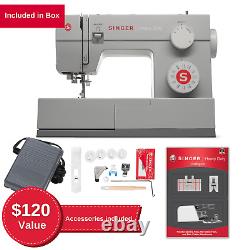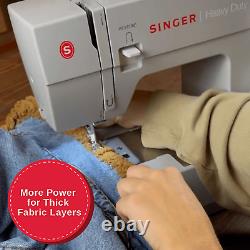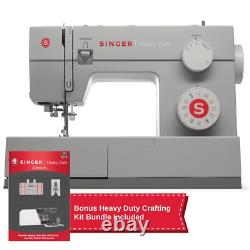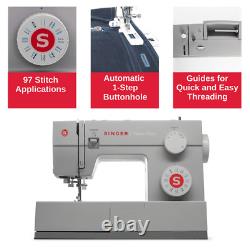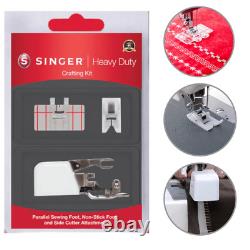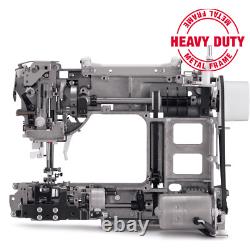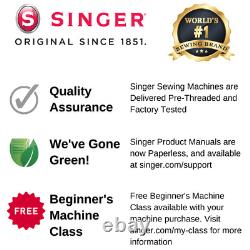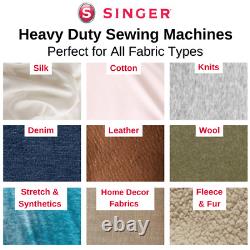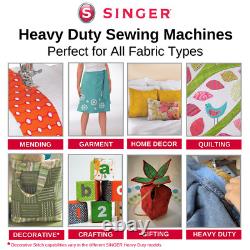 The ultimate Heavy Duty & crafting bundle is here and at an incredible value! Bring home the powerful SINGER® 44S Heavy Duty sewing machine along with its creative partner, the SINGER® Heavy Duty Crafting Presser Foot Kit. Let your crafty side run wild with this special feature-packed bundle! From denim to canvas, the Heavy Duty 44S sewing machine is designed with your heavy duty projects in mind. Thanks to the machine's powerful motor, you'll have the needle piercing power and extra high sewing speed to take on your heavy duty sewing and crafting projects.
Sewing sheer or lightweight fabrics? The easily adjustable presser foot pressure makes sewing very lightweight fabrics a breeze. In addition to strength, speed, and enhanced power, enjoy incredible creative capabilities. With over 100 Stitch Applications, you'll have the right stitch for any fabric. Your SINGER® 44S Heavy Duty Sewing Machine transforms into a crafting powerhouse with the included three-piece SINGER® Heavy Duty Crafting Presser Foot Kit. The SINGER® Side Cutter Attachment is literally on the cutting-edge, simultaneously trimming and hemming while you sew a seam. Decorative sewing will be forever changed with Parallel Sewing Foot, creating evenly spaced rows of decorative stitching. The slick surface on the SINGER® Non-Stick Foot's underside allows for effortless glide on tricky fabrics such as vinyl and leather.
You will enjoy sewing and crafting more than ever with the SINGER® Heavy Duty Crafting Presser Foot Kit! Whether you're embellishing a leather bag, making custom party favors, or transforming your home with fresh home decor, enjoy a super fun sewing and crafting journey with the SINGER® Heavy Duty 44S and Heavy Duty Crafting Presser Foot Kit by your side! SINGER® HEAVY DUTY CRAFTING PRESSER FOOT KIT.
The perfect kit for heavy-duty crafters and endless creations! Includes Side Cutter Attachment simultaneously trims and hems while you sew a seam, Parallel Sewing Foot creates evenly spaced rows of decorative stitching, and Non-Stick Presser Foot effortlessly sews on tricky fabrics. This internal rigid metal support keeps your machine stable and helps ensure long lasting durability. Sew up to 1,100 stitches per minute for extra speed when you need it. Great for larger projects with long seams and seam finishes. Stronger motor provides more power for sewing multiple layers and thicker fabrics. Generous "C" space (distance between the needle and the main part of the machine), allows you to sew larger projects with ease. Enjoy a wide range of sewing techniques for creativity and customization. Choose basic, stretch and decorative stitches, as well as a one-step buttonhole. Stitches are clearly displayed on the Stitch Selector Dial. Just turn the dial to select your stitch. Buttonhole sewing is a one-step simple process. Just place your button in the foot's holder, and the machine will stitch a buttonhole perfectly sized for your button, with consistent results every time. Fabrics glide smoothly over the machine's surface. Helps you thread the needle's eye effortlessly. TOP DROP-IN BOBBIN WITH CLEAR VIEW COVER. Jam-proof bobbin and clear bobbin cover plate are both transparent, making it easy to monitor your thread supply. The bobbin is easy to wind and easy to insert as well. Depending on your fabric and thread selection, the thread tension dial can be used to fine-tune the look of your stitch as desired.
Allows you to adjust the amount of pressure exerted by the presser foot on your fabric while sewing. The pressure is optimally set, but is adjustable for very thick or very delicate fabrics. Long lasting LED lighting provides bright illumination of the sewing area while eliminating shadows. Move the Drop Feed Lever to lower the machine's feed teeth for sewing on buttons, free-motion sewing, and more. EXTRA HIGH PRESSER FOOT LIFT.
Offers more clearance under the presser foot, which is needed when placing multiple layers underneath it. Slide the Removable Storage Compartment off the machine to access the free arm for sewing cuffs, collars, trouser hems and more.
ADJUSTABLE STITCH LENGTH AND WIDTH. Stitch length and width are preselected for you when you select a stitch, but they can be adjusted as desired to customize for any project. INCLUDED ACCESSORIES THAT BRING PROJECTS TO LIFE. Six presser feet (All-Purpose Foot, Zipper Foot, Button Sewing Foot, One-Step Buttonhole Foot, Even Feed/Walking Foot, Non-Stick Foot), Clearance Plate, Seam Ripper/Lint Brush, Spool Caps, Screwdriver, Edge/ Quilting Guide, Extra SINGER® Class 15 Bobbins (transparent), Pack of Needles, Heavy Duty Needles, Auxiliary Spool Pin and Felt Washer. Assembled Product Dimensions (L x W x H).
15.50 x 6.25 x 12.00 Inches.

---