SINGER Heavy Duty 44S Mechanical Sewing Machine, Powerful Performance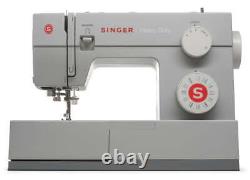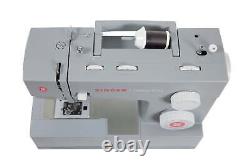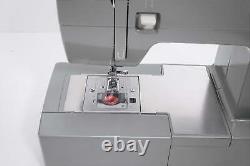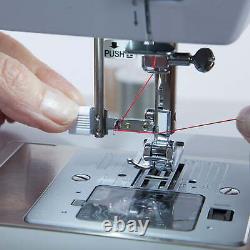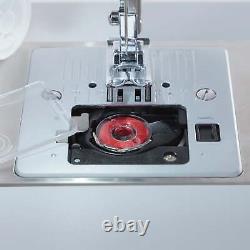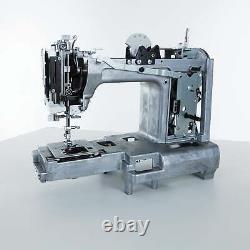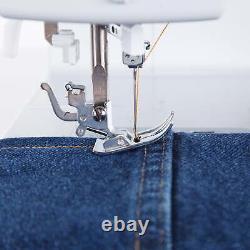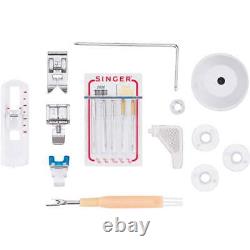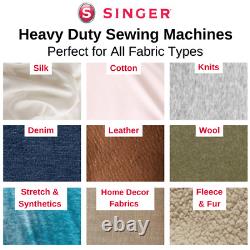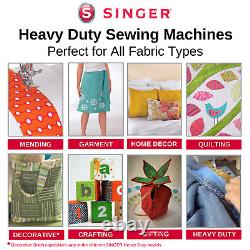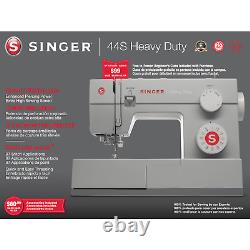 SINGER® Heavy Duty 44S Mechanical Sewing Machine, Powerful Performance, Great for All Projects & Fabrics, Four Accessory Feet included, Easy to Use, Professional Results. With 50% more power and enhanced speed, the SINGER® Heavy Duty 44S Sewing Machine brings professional sewing results at an incredible value. The 97 Stitch Applications include basic, stretch, and decorative sewing techniques, perfect for all types of fabrics. The Heavy Duty 44S will be your go-to sewing tool for thick fabrics or layers. Sewing sheer or lightweight fabrics?
The easily adjustable presser foot pressure makes sewing very lightweight fabrics a breeze. Enjoy convenient features to get your sewing projects done faster! The stainless steel bed-plate enables smooth fabric flow and the heavy-duty interior metal frame ensures skip-free sewing. The Top Drop-In Bobbin makes it easy to see your thread so you don't run out in the middle of a seam. And, you will love how the LED lighting illuminates your sewing area.
Plus, four essential presser feet are included with your machine. SINGER® provides all of the tools you need for a great start on your sewing journey! Whether you're creating home decor or mending jeans, you will enjoy sewing your projects more than ever with the SINGER® Heavy Duty 44S Sewing Machine by your side. FULL METAL FRAME: This internal rigid metal support keeps your machine stable and helps ensure long lasting durability. LARGE SEWING SPACE: Generous "C" space (distance between the needle and the main part of the machine), allows you to sew larger projects with ease.
97 STITCH APPLICATIONS: Enjoy a wide range of sewing techniques for creativity and customization. Choose basic, stretch and decorative stitches, as well as a one-step buttonhole.
ONE-STEP BUTTONHOLE: Buttonhole sewing is a one-step simple process. Just place your button in the foot's holder, and the machine will stitch a buttonhole perfectly sized for your button, with consistent results every time. TOP DROP-IN BOBBIN WITH CLEAR VIEW COVER: Jam-proof bobbin and clear bobbin cover plate are both transparent, making it easy to monitor your thread supply. The bobbin is easy to wind and easy to insert as well.
ADJUSTABLE TENSION: Depending on your fabric and thread selection, the thread tension dial can be used to fine-tune the look of your stitch as desired. ADJUSTABLE PRESSER FOOT PRESSURE: Allows you to adjust the amount of pressure exerted by the presser foot on your fabric while sewing. The pressure is optimally set, but is adjustable for very thick or very delicate fabrics.
EXTRA HIGH PRESSER FOOT LIFT: Offers more clearance under the presser foot, which is needed when placing multiple layers underneath it. ADJUSTABLE STITCH LENGTH AND WIDTH: Stitch length and width are preselected for you when you select a stitch, but they can be adjusted as desired to customize for any project.

---