SINGER 4423 Heavy Duty Sewing Machine With Included Accessory Kit, 97 Stitch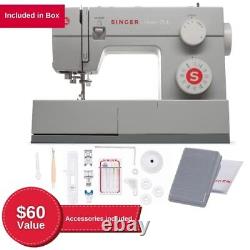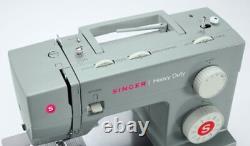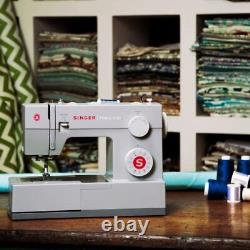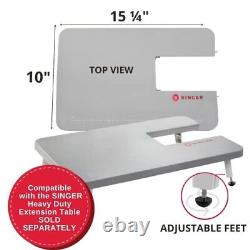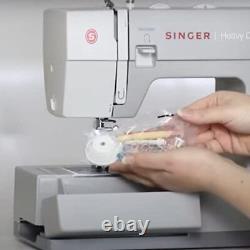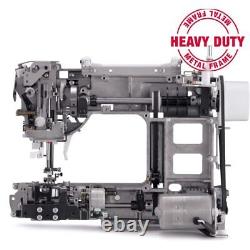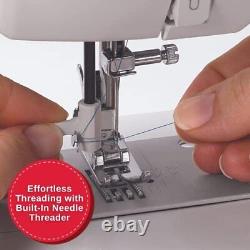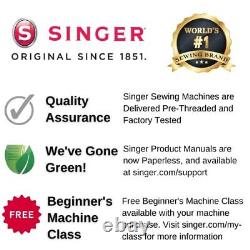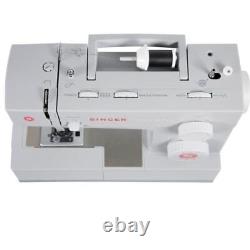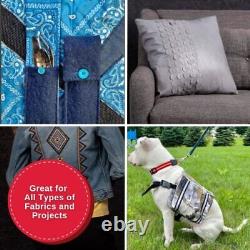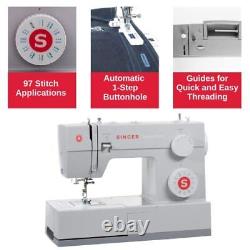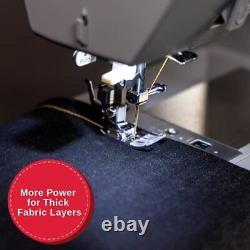 SINGER HEAVY DUTY SEWING MACHINE: The 23 built-in stitches including basic, stretch, decorative, and buttonhole stitches allow you to sew a variety of projects, such as fashions, home décor, quilts, crafts, and more. AUTOMATIC NEEDLE THREADER SEWING MACHINE: After following the threading path printed right on the machine, this built-in feature helps you to effortlessly thread the eye of the needle without eye strain or frustration.
HIGH-SPEED SEWING MACHINE:The Singer 4423 Sewing Machine has a maximum sewing speed of 1, 100 stitches-per-minute, so projects can be sewn quickly. The 60% Stronger Motor provides greater piercing power for thick seams. HEAVY DUTY METAL FRAME: The Singer 4423 heavy duty sewing machine is a true workhorse. With a heavy-duty metal interior frame, stainless steel bedframe, extra-high sewing speed and powerful motor, this sewing machine can sew through a variety of heavy weight fabrics and provides long lasting stability. SEWING MACHINE ACCESSORIES: A variety of accessories are included with All-purpose foot, zipper foot, buttonhole foot, button sewing foot, seam ripper/lint brush, quilting guide, needles, bobbins, screwdriver, auxiliary spool pin, spool pin felt are all conveniently located and stored in the accessory tray. A soft-sided dust cover is also included in the packaging. Note : Refer to the Videos and also the PDF attached below in Technical Specification for Manuals.
Whether you're creating home decor or mending jeans, the SINGER Heavy Duty 4423 will quickly become your go-to sewing project partner. It's no wonder the HD 4423 is a Customer Favorite!
Take on your sewing projects with confidence! From canvas and leather to lightweight sheers, The SINGER Heavy Duty 4423 can handle it all!
Choose basic, stretch and decorative stitches, as well as automatic 1-step buttonhole. Experience convenient features to get your sewing projects done faster! Enjoy easy threading with the built-in needle threader. The Top Drop-In Bobbin makes it easy to see your thread so you don't run out in the middle of a seam. The Drop Feed feature makes free motion and button-sewing a breeze.
And, you will love how the LED lighting illuminates your sewing area. Professional Sewing Results Made Easy! The SINGER 4423 brings proven power, speed, and results! High Performance Meets Convenience in this sewing workhorse. Includes Four Presser Feet for a variety of sewing techniques.
Full interior metal frame ensures skip-free sewing and durability. Effortless threading with built-in needle threader. Enjoy a wide range of sewing techniques for creativity and customization. Choose from basic, stretch and decorative stitches. Stitches are clearly displayed on the Stitch Selector Dial.
Just turn the dial to select your stitch. Included Accessories for a quick start. Sewing is easier when you have the right accessories, and SINGER includes the accessories for a quick start!
Accessories include the All-Purpose foot, Zipper foot, Buttonhole foot, Button Sewing foot, seam ripper / lint brush, quilting guide, needles, bobbins, screwdriver, auxiliary spool pin, spool pin felt, and soft-sided dust cover. Buttonhole sewing is so easy with reliable results every time. Just place the button in the buttonhole foot and the machine sews a buttonhole perfectly sized for that button. After effortlessly threading the machine, the built-in needle threader threads the eye of the needle without eye strain or frustration.
Easy-to-Load Top Drop-In Bobbin System with Clear Cover. The bobbin loads from the top, so it is easy to insert. The clear cover makes it easy to monitor the bobbin thread supply.
Enhanced Piercing Power and Speed. Stronger motor provides more power for sewing multiple layers and thicker fabrics. Sew up to 1,100 stitches per minute for extra speed when you need it. Great for larger projects with long seams and seam finishes.
The internal skeleton of the sewing machine is constructed of heavy duty metal. This rigid support holds all the mechanisms in perfect alignment for skip-free sewing and overall durability.
The unique bed plate allows your fabric to glide smoothly as you sew. There is also a generous "C" space (distance between the needle and the main part of the machine), allows you to sew larger projects with ease.

---