SINGER 201 201k Heavy Duty Sewing Machine Serviced & Restored by 3FTERS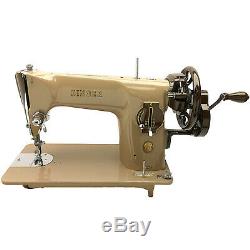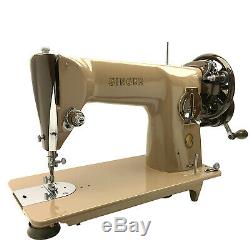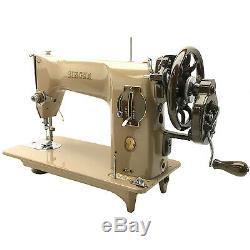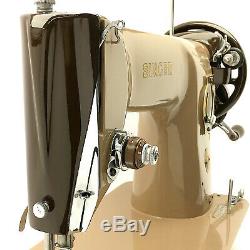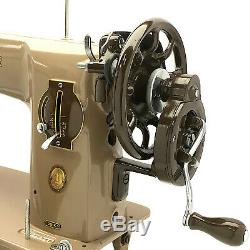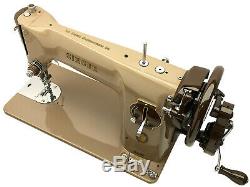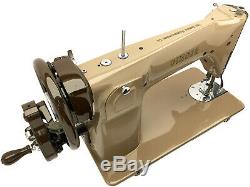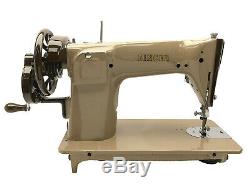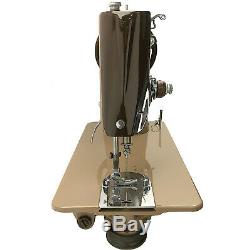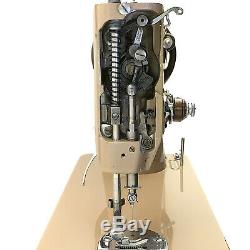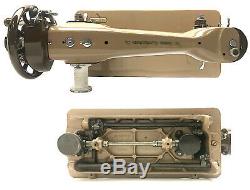 201k mk2 Heavy Duty Sewing Machine. A Beautiful SINGER 201 in Full Cast Aluminum Alloy Body. This is a rare model equipped with handcrank. Still Gorgeous in her 60s!
Restored, Professionally Serviced & Fine Tuned Thread Tensioners are Tuned too. Ready to Sew, just right out of the box! SINGER 201k mk2 S/N: EM974980. A motor, foot pedal and light set for 110V or 220V is also available at an extra cost. A matching Original SINGER base with Carrying Case can be provided upon request at an extra cost : An extremely well preserved SINGER 201 mk2 which has been: -Thoroughly Cleaned & Polished -De-Greased from old Greases -Freshly Greased & Oiled -Adjust & Fine tune Tensioners, Feed Dogs, Needle Bar etc -Stitch Length Adjusted to SINGER Specifications both Forward and Reverse at 6 to 30 stitches per inch.
Rotary Hook Cleaned & Adjusted -Bobbin Winder Assembly tuned & rubber ring / tire replaced with Original SINGER All maintenance & restoration done by 3FTERS Athens always adhering to their strict restoration program guidelines! The results are more than obvious in the photos of this listing. Serial number: EM974980 indicates that was manufactured in 1958 The Mk2 indicates that she belongs to the 2nd 201 chassis family, built in cast light alloy body. And the "k" indicates that she was m ade in Kilbowie, Clydebank, UK.
Apart from the great looks, she packs an amazing strength, which is more than obvious when sewing thick or hard materials. The quality of stitch, for which she's so well known, is second to none! Actually at 8kg of weight, she is the lightest sewing machine ever made to stitch high quality stitch. Operates quietly and smoothly, thanks to the Horizontal Rotary Hook (the standard choice for industrial sewing machines), and the high level of craftsmanship in manufacturing process. Actually the only thing you can hear when in operation, (apart from that of the motor) is the sound of the thread, sliding on the tension spring and that of the needle penetrating the fabric!!! The precision mechanics incorporated in this model, together with the high level of "forgiveness" in her settings, are beyond anything produced in the last 80 years that i've came up across. And i have come across quite a lot of them. Capable of sewing from lightweight fabrics, up to leather, canvas, sail cloth or multiple layers of denim, provided the correct needles and thread are used. Features: forward, reverse & dropped feed dogs which makes her capable of free machine embroidery/darning. This is the creme de la creme of vintage sewing machines and the best machine that Singer ever produced. Often referred as the Rolls Royce of Sewing Machines she is o verbuild to outlast generations upon generations! Capable of 1,100 stitches /min was a workhorse in her time and although she had a quite pricey tag, people had the opportunity to have a great, reliable, high quality sewing machine at their home, putting her in production and break even in a timely manner. This was not a tool for "times needed" or decoration purposes, this was a real semi-industrial sewing machine in which people back then, relied on her capabilities for their income. The Final Singer 201 was a BROWN/BEIGE mk2 , and by 1963 it was no more. The finest sewing machine the world had ever seen, became just too expensive to manufacture.
Cheaper, uglier, noisy plastic machines which when operating, you think by the noise they are doing that they are grinding their internal parts, took the place of these engineering marvels, only to be overcome (finally) by these Black Beauties by the shear persistence of their heavy duty, long lasting quality and user friendliness they pack. She will be lovingly packed and delivered to her new owner by post/courier, or can be collected for free.
Happy to provide additional photos, video or answer any questions. We know vast majority of people dont really differentiate the two terms nowadays but there is actually a huge difference between them. The difference between restore and refurbish is that restore is to reestablish, or bring back into existence while refurbish is to rebuild or replenish with all new material. Restore English, Verb To reestablish, or bring back into existence.
T o restore to original (or better) working order and appearance. To bring back to a previous condition or state. To give or bring back (that which has been lost or taken).
English, Verb To rebuild or replenish with all new material. To rebuild or replenish with all new material. Since many people still keep asking questions about whether those items we list are repainted, with new stickers etc, we feel the need to clarify things. All items we list as restored are almost 100% originals , nothing new put on them other than oil & grease, rubber o-rings (tires), rubber / felt feet, and motor / treadle belts, depending on the model. If a part is missing or damaged and we can't repair it, we'll replace it with one from a donor machine of the same era.
Never a newer or a new one. Those items are certainly repainted as many think, nor have we put new stickers / decals which would then label them as renovated or "refurbished". Everything was set in the factory back then.
Motor sets may have a new plug and leads but coils and internals would be vintage and serviced. Always have in mind the time to restore an item, is many times the time needed to refurbish a same one. And although it is much, much more time consuming, we prefer this approach which preserves the authenticity and history of an item rather than just making it eye appealing but strip it from it's history and identity.
Growing up in Athens, Greece watching the archeologists, since we were kids, painstakingly removing layer after layer of debris and foreign matter from the. Dig sites the size of football fields using nothing more than small brushes the size of a toothbrush and small hand tools along with tons and tons of patience and sunscreen. May have contributed in our later days attitude towards items of.
Or at least we like to think so :. The item "SINGER 201 201k Heavy Duty Sewing Machine Serviced & Restored by 3FTERS" is in sale since Wednesday, July 3, 2019. This item is in the category "Crafts\Sewing\Sewing Machines".
The seller is "3fters" and is located in ATHENS. This item can be shipped worldwide.
Model: 201k
Modified Item: No
MPN: Does Not Apply
Custom Bundle: No
Class: 66
Brand: SINGER
Suitable For: Denim
Stitch Type: Straight
Featured Refinements: Singer 201 Sewing Machine
Country/Region of Manufacture: United Kingdom
Original/Reproduction: Vintage Original
Color: Beige
Product Type: Sewing Machines
Type: Domestic Sewing Machine
Product Line: SINGER 201

---